Top 11 Office Table Designs for a Post-pandemic Workspace
When the world comes back to some normalcy after the pandemic, the setup of physical office spaces will go through a significant transition. The look, feel, and people's behaviors toward the physical office will change.
Things like a partition between workstation will become more of a permanent thing; plexiglass barriers will be replaced with acrylic screens and tempered glass. Fabric cubicle panels, which are more prone to capture dust, dirt, and germs, will be changed with laminate surfaces, which are easier to clean. These are some of the necessary changes that interior designers, office furniture dealers, and manufacturers are dealing with to ensure the safety of people, as the first wave of this pandemic passes, and employers prepare to recall their workers.
Office workspace is evolving from desks to cubicles to wide-open spaces with standing desks. Adding the right furniture in your office is a must-have. Right furniture according to the pandemic situation, not only enhances the aesthetics of your space, but it also ensures the comfort and safety of your employ.
After all, a clean, safe, and orderly office space, has a subtle way of increasing the morale and productivity of your employee, and who doesn't want to get better in the business?
Finding the right desk from the multiple options available can become tricky. Well, no worries, we have sorted a list of best office tables for you to make the selection process easier.
Let's get started then, shall we?
The L-shaped Work Unit
The time of pandemics has made it challenging to work in an environment without risking your health. This L-shaped work unit provides an ultimate solution for crowded workspaces with no safe distance and privacy. Each desk is a complete work unit for an individual. The desk part is attached with a shelf unit to keep files in it; you can also put stuff on its top. It also has a floating shelf and an above head cabinet. The desk has an ash veneered surface with stainless steel legs; it will not only beautify your workspace but will also make it safer for you to work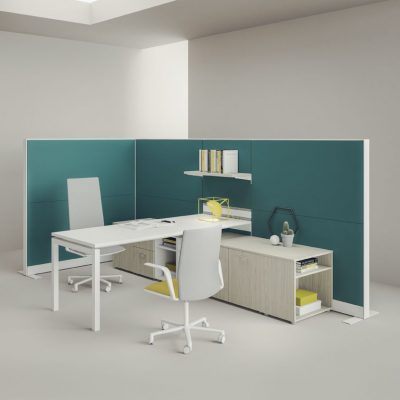 The Héxié Desk
The Héxié desk looks like; it is designed on the model of ensuring a safe distance between workers. The word "Héxié" is a Chinese word which actually means harmony, and this is exactly what the table displays. It has a shield in the center to divide the two sides to maintain a distance. This table can be used both as an office table and a conference table. A range of furniture can be set alongside this table, creating a workspace where the owner can rearrange it according to the conditions, and in the time of pandemics, it can be arranged to keep a safe distance between people.
This sophisticated open cubicle is a working station for four people. It has multiple drawers and shelves to manage all your files and papers. The two desks are at a right angle to each other, and the other two are next to each other, with shields between all the tables, to maintain a distance between them, for ensuring the safety of people. It also has another shield at the sides for safe outside interaction. The whole composition of this table is made from laminated wood for a durable, long-lasting life.
Reception Office Table Design
long with creating new designs, some upgrades in the previous furniture designs can make them safe to use in situations like a pandemic. This reception office table is a real example of this. It can be used in the reception area of the office to warmly welcome people. It is also well-suited to use in hospital reception areas where a lot of infected people come. The shape of the table allows a safe interaction between the employees and the visitors. Colors of this table are subtle that gives a feel of being invited, and the front mirror shield will also provide the utmost safety. It also has a small window in the glass shield, in case if anyone wants to handover anything.

Executive Table Office Unit
This professional office unit is one of the best all-rounder designs. The structure is well built and robust with an affordable price range. It was designed, considering the pandemic situation to ensure the personal safety of people in the working space. The structure of this unit is made of wood with small glass windows between them. It has two small cabinets in each compartment, one for the storage of files which is open and has shelves; the other has three drawers in it, and you can keep your personal stuff in it. The desk is easy to assemble, it's very solid, with the actual desktop being 2.5cm thick. One extra worth mentioning thing is that there are small cable management holes on either end of the desk. It comes in a range of sizes, with a space of 2 people to work by maintaining a safe distance between them. It provides great value for your money.
Modern Office Desk
This modern style office desk is multipurpose, it can be used as an office desk, or you can use it as a display table to showcase stuff at any exhibition. After the initial shock of the pandemic, when the offices will start to open again, you'll want to do a lot of rearrangements in your office to make it a safer place. A light-weight furniture peace like this modern office desk is easily movable. The top of this table is made of ash grey wood and has strong steel legs. On the front side, there is a curved glass shield that also adds to the design of this table and makes it safer for human interaction. Its robust designs make it really strong and long-lasting. With no storage space, it can become a perfect choice for writers and freelancers.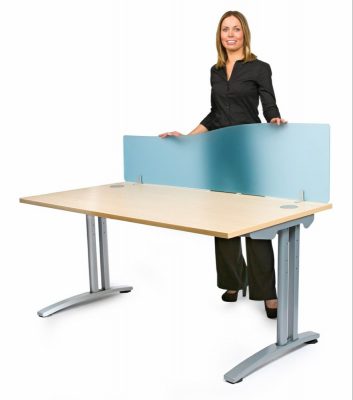 Minimalist Office Partition
We have put this minimalist office table in our list of best office table design because it's sleek, well made and provides an excellent value for your money. The minimalist style of it gives a modern feel to any space. Its seamless design doesn't give a bulky look to your office. This is an excellent choice for writers and freelancers who don't need much space for storage. It is made from particle-board with white stainless steel legs. The length of this beautiful table is 3.6 m with a width of 60 cm, with dividers between each sitting, which makes it safe enough for human interaction by maintaining a proper distance during this pandemic season. It is incredibly sturdy and doesn't shake during use, and it only takes 30 minutes and one person to assemble it completely. We'd recommend this table for spaces that gravitate more towards minimalist style.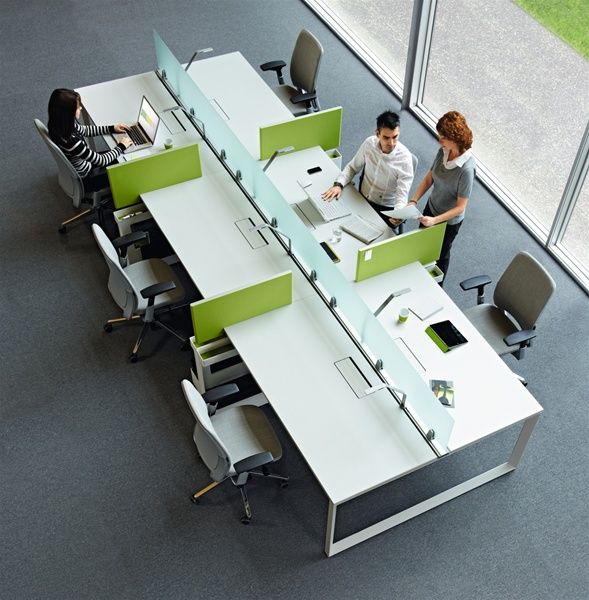 Smart Working Unit Office Table
This smart working unit is one of its kind; with its pastel color, it can stand out anywhere. You can completely transform the feel of dull, boring office space just by the addition of it. It provides a working space for two individuals to work right next to each other. It comes with a light brown storage unit which is 183 cm long, you can keep your files and belongings in it, and its top can also be used to put printers and stuff. It also has a floating shelf, which you can use to put some books, or you can use it for some light office décor. It provides coverage from two sides, which makes it perfect for a safe office interaction in times of pandemic. It is made of particle wood with stainless steel legs, which makes it robust enough to carry a weight of 300kg. The desktop has ample surface area to keep two laptops on it with still some space left to keep your files, without the fear of it collapsing down.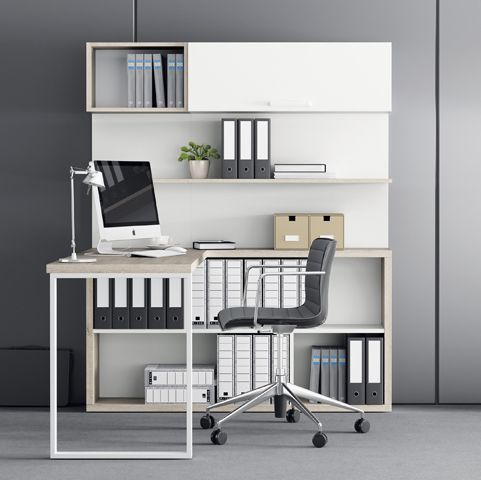 Compartment office cubicles
This pandemic season has closed many doors; on the other side, it has also opened the doors of creativity to develop a new and improved design of furniture and other stuff. Designs that are space-saving yet is good for safe interaction are highly in demand. This compartment desk fulfills all these demands of the market and much more. If you have a tight office space where you're conscious about utilizing every inch of the space, you can choose this compartment table, which takes almost half of the space than a standard working unit. It comes with a big round seat which makes this compartment desk an out of the box design. The pastel colors of these tables will add a warm feel to your space, thus creating a comfortable working environment that will boost the productivity of your employees. The compartment desk has a modern design that can enhance the look of any space. It is an easy way to maximize your space in a smaller office area.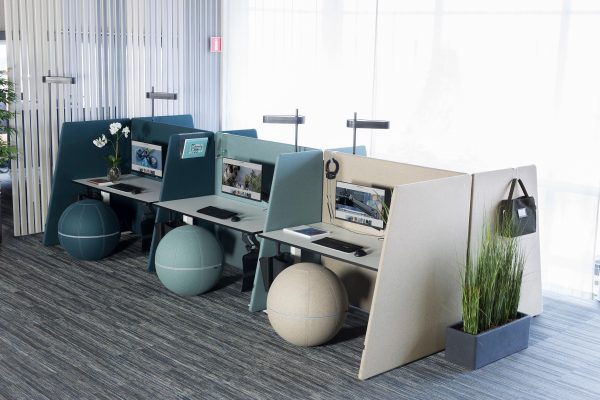 Open shelving Corner office table
This sleek corner table doesn't just provide you cabinets to stuff your belongings; it also displays an intelligent design with a layout that allows you to organize your space efficiently. The open structure of this white laminate wood working unit allows good airflow. It includes two large file drawers and two shelves; one open and second partially covered. The other side of the desk consists of two long shelves and three shorter shelves. It has a shield on the front side to give some privacy and protection. With plenty of space to organize your stuff, you'll be able to arrange your work items to your liking.
Besides its functionality, the work unit has a sleek, modern design that perfectly complements the interior of your office space. The width of the table is 61cm, and its length is 106.5 cm, which gives a good amount of space to work.
Café Furniture Set
With this wave of the pandemic, things are changing drastically, along with office furniture, furniture of other spaces like cafeterias is also transforming. Light-weight furniture, which is easily movable and portable, is coming back to the trend so that it can be arranged according to the safety needs.
This round shaped metal table provides a good utility in your office cafeteria; it comes with two metal chairs and two side shields to create a mini secured environment. This multipurpose furniture set can be used as patio furniture and for an open themed restaurant.  If you want something that creates an exciting vibe in your office's cafeteria, which will also make sure of your safety, buy this café furniture set. The frame consists of coated metal with welding joints covered with reinforced plates for extra stability. During the pandemic season, it will add to the experience of yours.
Conclusion
The pandemic has forced the adoption of new ways of working. Organizations, interior designers, and furniture manufacturers are reimagining their work and the role in creating a safe, productive, and enjoyable space for their employees, which means doing every possible thing for secure interaction. It includes changes in office layout, the introduction of touchless technology, and modifications in the furniture. We have made this list of office tables for a post-pandemic workspace. All the tables described in this article are designed for office use. These office tables are very sturdy, durable, and elegant. Other things that we have looked into are size, material, shape, file storage, and drawer space. These tables feature drawers, cabinets, and large top surfaces to provide you with enough working area when you're at your workplace all by managing a safe distance.
With so much to look into when it comes to selecting the right option, our list will make the process of comparison, selection, and buying easy for people who have started working after the pandemic.