Design Firms Share Their Office Reopening Strategies

Across the world, the coronavirus pandemic has forced companies to close their offices. Many have adjusted to working from home indefinitely, but others recognize the essentiality of the workplace. While the reopening phases look different country by country, city by city, office by office, many of us are asking the same question when it comes to reentering the workplace:
What changes and strategies need to be implemented in order to safely reopen offices for business?
We turned to six design and architecture practices from around the globe to share their thoughts in regards to planning for the return to their own workplaces. Gradually adding capacity, social distancing layouts, new wayfinding, increased air flow and flexibility were some of the features discussed as they look to the future of office design.

"Adopting a safety-first approach, our strategy team created a survey to understand employee concerns. The study identified individual health risks, equipment needs, home-working conditions and personal preferences. The data helped to inform our re-entry strategy, resulting in a range of carefully considered health and safety measures and a gradual return to the office. Phase one involves 20% office occupancy, with 37% as part of phase two.
© M Moser Associates, London
Above: M Moser Associates London open office plan
A risk profile was developed for each person, which helped to prioritise re-entry phasing and collaboration activity within the space. We developed a signage package that clearly marks the required behavioural changes in the space, guiding circulation, informing staff on which areas can be used, and identifying risk. Staff are required to adhere to 2m social distancing at all times and these measures are assessed on an ongoing basis ,in line with government guidelines.
Ultraviolet lamps installed into the AC units use UV-C radiation to reduce airborne infectious disease transmission. The HVAC system that previously focused on the supply of fresh air per person, is now set up to create positive-negative pressure differentials from clean to less clean areas. Increased sanitation stations feature in 'high touch' areas, including staff lockers, print areas, and video conferencing screens."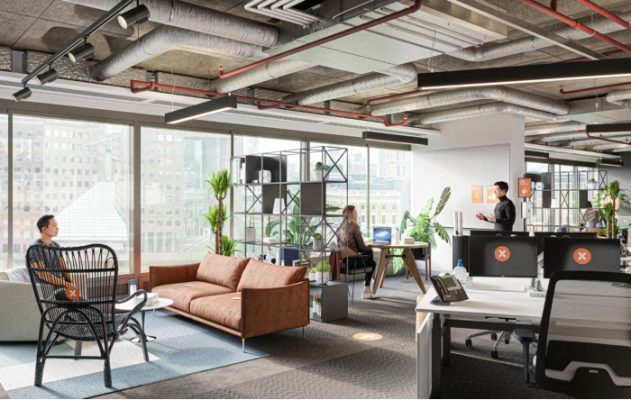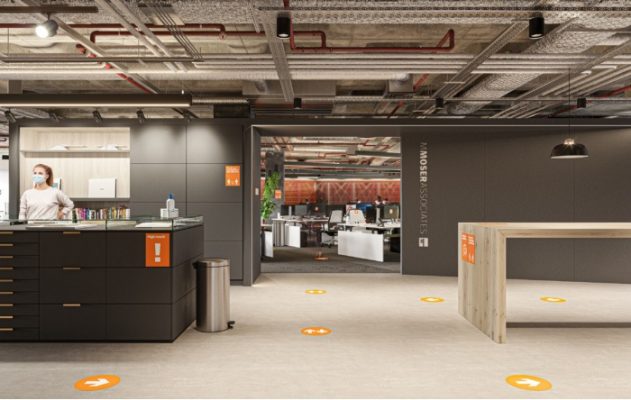 Studio O+A, San Francisco
"Before the Bay Area locked down, Studio O+A understood the pandemic was going to change our business. Right away we assembled a team to research the virus and what it would mean to workplace design. We talked to doctors, architects, builders, product manufacturers, our colleagues in HVAC and MEP, elevator companies, landscaping companies—all with the intention of developing a new use model for the office, new answers to the questions we ask on every project. Why do people come to an office? How do they like to work? We will publish our findings soon.
The coronavirus crisis is prompting improvisations, which in turn suggest possibilities for the future. Yesterday, for example, we had a kick-off meeting for a project with a new client. Normally we would have flown to the location and camped out in their office for two or three days to get a sense of how they operate. We can't congregate in that way now, so for an upcoming visioning session we're having someone strap a camera on his head and walk around the office.
What we're finding is that the work of design can move forward in this crisis. It's the culture of design that needs careful tending. We think that may be every office's post-pandemic mission. For heads down work, your kitchen may suffice. But to meaningfully interact with a team you need to put on our work clothes, leave the house and break bread together. O+A is working on that."
Revel Architecture & Design, San Francisco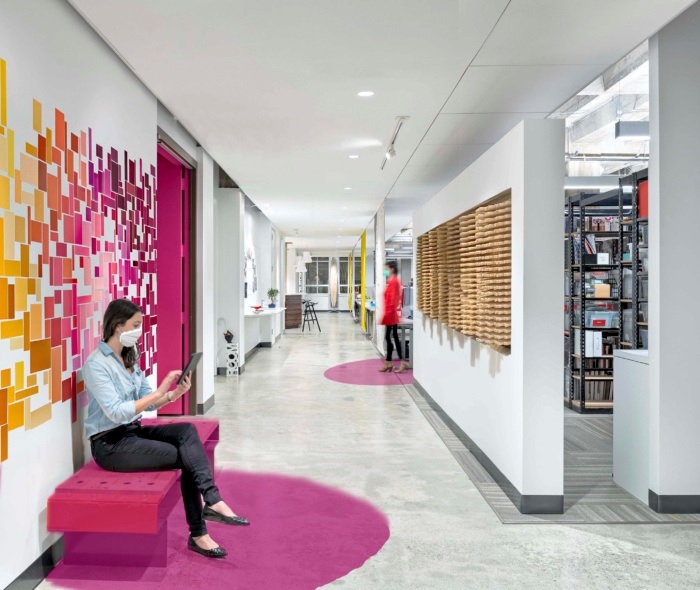 "Over the past several weeks we have engaged with some of our oldest clients, as well as some new, to lead the planning of their safe return-to-work. Through that process we have learned a great deal based on the planning for their most pressing concerns, which, paired with our own hot button considerations has helped inform our procedures for a safe return to the office.
© Revel Architecture & Design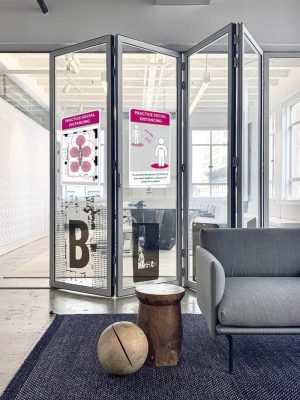 Above: Revel Architecture & Design's new floor plan and layout for their San Francisco office
We have a strong culture at Revel and we knew that, for many of us, one of the biggest drivers for our return to work was the social and collaborative aspect that you just can't replace, no matter how great we are working across teams while being remote. And while we knew that was important to some, we didn't know all the concerns of our team, so we engaged all 45 of our staff that utilize our San Francisco office through a survey. The questions hit on topics across the board; kitchen use, commuting concerns, overall comfort levels, satisfaction with their home environments, challenges being remote created, ability to return with kids at home, and on and on. The data we got back was to be expected in some respects, and very eye opening in others.
As for the logistics of what our return will look like – phase one will only be roughly 10% of the office, which allowed ease with planning social distancing of workstations. We also created one-way circulation paths, eliminated secondary circulation along workstations, and designed signage that has been added throughout the office showing room capacity, sanitation procedures, safety reminders, etc. Bringing all of these strategies together is a new digital check-in process that shows in real-time data of the office. This will help keep the office under maximum capacity, provide real-time data of who is in the office, aid with contact tracing – all to make sure our return to work is as safe as possible."
Ultraconfidentiel Design, India
"Workplace design as a response to COVID-19 has forced business leaders to question the status quo. From managing real estate assets to organisational priorities, from wellness protocols to integrated technology, the workplace needs to evolve.
The return to work is taking shape as surgical and punctual interventions with a view to increasing social distance and reducing employee's interactions. This is causing an impact in the way of investing in real estate for companies that will surely change the essence of the office itself. COVID-19 has accelerated this change in the workplace.
© Ultraconfidentiel Design, India
Above: Ultraconfidentiel's workplace plan in phases
We are therefore in the midst of a revolution, a true advent of remote and smart working in order to reduce the physical presence and the surface of the office.
But Ultraconfidentiel thinks differently; Workplace now has to be re-designed in a way where sociality and human interaction are the drivers for company and business growth and not obstacles. The dense spaces dedicated to individual work has to be converted into areas dedicated to mobile collaboration and sharing.
We truly believe that this is not the end of the workplace. There will always be something special about being in the same room and sharing ideas. Physical and Digital they must not be mutually exclusive, but more and more will coincide in a perfect ecosystem."
The Design Group, Warsaw
Konrad Krusiewicz, founder and CEO of The Design Group:
"The organization of return to the office for our team is not very demanding and necessary – I must admit that remote work has worked quite well in the case of our architectural studio. However, the fact that we all like each other very much and simply needed this direct contact with the rest of the team led us to rethink our strategy for getting back to work in the office.
What I can call "new" for us when we return is disinfection – of rooms, workstations and simply disinfection of hands just after entering the office. Also, we have introduced a shift system to limit the possibility of accumulation of people. Each of us maintains a distance even much greater than indicated in the regulations – this is because of the layout of the office space and the possibility of working in closed rooms. We also want to set an example for our clients for whom we design office spaces. Nowadays, they want their employees to return without worries to their safe working environment, which must start operating on several new principles.
Thanks to our architectural knowledge, knowledge of regulations, but also own experience related to returning to TDG workplace, clients know that we will do everything in our power to ensure a safe return to the office for them and their employees."
—
GroupGSA, Australia
"After a swift transition to working from home for several months in response to the rapid lockdown across Australia, GroupGSA has re-opened its studios in Sydney and Brisbane. In developing our Return to Work Plan, we conducted a survey to gauge how our teams felt about returning to the workplace. We found that while the working from home setup was successful, and teams remained connected and productive, sometimes they were lonely.
The survey results indicated 83% of employees wanted the option to work from home, stagger their start and finish times to avoid long commutes on public transport, and flexible arrangements to suit their personal circumstances. We updated our Flexible Work Policy to incorporate these preferences.
It was important to us to ensure both psychological and physical safety for all employees. Our first initiative in response to the lockdowns was to introduce the Employee Assistant Program to support employee emotional, social and psychological well-being.
In addition, to keep our physical environment safe we conducted a deep clean before returning to the studio, updated our Clean Desk Policy and provide hand sanitisers, PPE, anti-bacterial wipes and cleaning products throughout the studio. We maintain physical distancing protocols to limits in breakout areas and meeting rooms, and conduct temperature checks for visitors to our office. We also continue to use video conferencing for large internal meetings and meetings with external parties.
Since our return, staff remain positive and are happy to be back, appreciate the flexibility, and follow COVID-safe procedures."
Source: https://officesnapshots.com/articles/design-firms-share-their-office-reopening-strategies/
When moving back to the office, it is important to invest in protective measures that will empower your team to return to their offices with confidence. Consider your plan, your goals and your budget, while executing a safety plan for your team. At Queens Arts and Trends, our team of office furniture professionals are willing to offer our assistance, to help you and your team return to the office. LET'S GET IN TOUCH.